1
« Poslední příspěvek od gulio kdy Dnes v 08:24:23 »
Tenkrát v Kalifornii / Once Upon a Time in Venice (2017)
BRRip/CZ
Keď je môj súbor zaheslovaný tak heslo je vždy: marat
FORCED Titulky CZ
Once Upon a Time in Venice

Tenkrát v Kalifornii
Komedie / Akční

USA, 2017, 94 min
Režie: Mark Cullen, Robb Cullen
Scénář: Mark Cullen, Robb Cullen
Kamera: Amir M. Mokri
Hudba: Jeff Cardoni
Hrají: Bruce Willis, Jason Momoa, John Goodman, Thomas Middleditch,
Famke Janssen, Stephanie Sigman, Adam Goldberg, Adrian Martinez, Kal Penn,
Elisabeth Röhm, Wood Harris, Emily Robinson, Maurice Compte, Billy Gardell,
Victor Ortiz, Ken Davitian, Ralph Garman, Keith Jardine, Kevin Breznahan,
Candice Coke, Ana Flavia Gavlak, India Wadsworth, Anthony Martins, Sol Rodriguez,
David Arquette, Christopher McDonald
https://www.csfd.cz/film/53527-tenkrat-v-kalifornii/prehled/
Steve Ford (Bruce Willis) je soukromý vyšetřovatel z předměstí Los Angeles. Jeho profesní a soukromý svět
se spolu střetnou poté, co přijde o svého milovaného psa Buddyho. Buddy je ukraden nechvalně proslulým gangem.
Po řadě bláznivých situací začíná Steve s gangem vyjednávat. Současně je pronásledován dvěma pomstychtivými
samojskými bratry, osobními strážci jednoho lichváře a několika dalšími podivnými týpky. Říká se, že pes je
nejlepším přítelem člověka, a Steve dokazuje, jak daleko je člověk ochoten zajít, aby Buddyho získal zpět.
SCREEN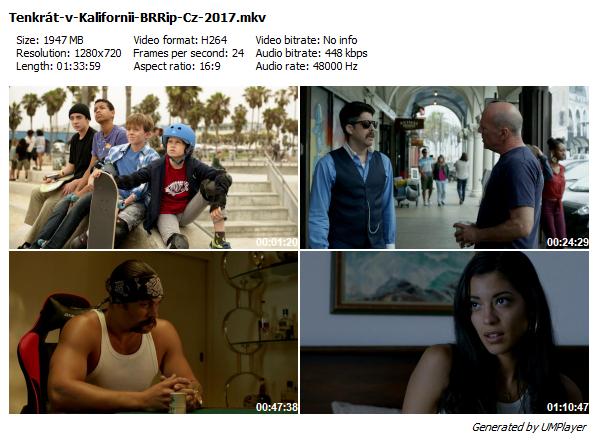 MediaInfo:
General : C:\Film avi\AVI\once17\Tenkrát-v-Kalifornii-BRRip-Cz-2017.mkv
Format : Matroska at 2 897 kb/s
Length : 1,90 GiB for 1 h 33 min 59 sek. 584 ms
Video #0 : AVC at 2 450 kb/s
Aspect : 1280 x 720 (1.778) at 24.000 fps
Audio #0 : AC-3 at 448 kb/s
Infos : 6 kanálov, 48,0 kHz
Language : cs
Text #0 : UTF-8
Language : cs[/b]
http://www.fastshare.cz/9358273/once17.rar

https://sdilej.cz/8518290/once17.rar

http://download.hellshare.sk/once17-rar/70399392/

https://webshare.cz/file/1zp2yf3n55/

https://uloz.to/!vZRG2Ts4yANI/once17-rar
Heslo je : marat
Keď vám winrar pri rozbalovaní ukáže nesuhlasí crc tak najprv zaškrtnite položku
,,Ponechať poškodené subory"a keď to nepomože tak použite zaznam na opravu,dat je tam 5%.
(v hornej lište Nástroje - Opraviť archív)V tomto prípade WinRar vytvorí opravený súbor,
ktorý začína slovom "fixed".Tento výraz je ale potrebné zmazať po oprave a rozbalit vo win rar.
Alebo použite 7zip ten to rozbali bez problémov!!!